Product Review: Academic Planner – a Tool for Time Management
This page may contain links to Amazon.com or other sites from which I may receive commission on purchases you make after clicking on such links. Read my full Disclosure Policy
I've reviewed quite a few paper planners over the years, some which were designed for busy moms, with the rest being more "all purpose" planners.
A number of years ago, Leslie Josel of Order Out of Chaos created an  academic planner specifically for students, having found nothing on the market that worked for her clients or her son. By the way, Leslie has frequently participated in the Productivity & Organizing Blog Carnival, both as a sponsor and as a Star Blogger.
She recently sent me samples of her latest products, and I was excited to check them out.
First Impressions
Since I haven't been a student or had school-aged kids for many years, my initial reactions were based on my current situation as a home-based business owner. I really like:
the construction, with coil binding and an outer cover made of plastic to protect the paper inside
the page layout, with weekly grids and full month-at-a-glance pages, each with notes sections
the streamlined format, achieved by not including pages of unneeded reference information, so common in paper planners
having a choice of size: letter (8½ x 11″) or personal (8¼ x 8½")
the variety of attractive cover designs in each size, for a total of seven options. Shown above are the letter size in Red Light and the personal size in Collegiate Plum (which is the one I'd choose if I were buying one for myself).
Features
To evaluate it as a tool for students, I had to send myself back in time a few decades. 🙂
Looking at it through those eyes, I also appreciate these features:
It runs from July to June, to accommodate the academic year.
There's space to record your classes at the front of the planner. It lines up with the weekly grids so it's easy to keep track of what work has to be done in each subject.
The schedule section includes space for after school activities, an important component of a balanced education (and a balanced life, for that matter).
There's plenty of room to write details of assignments and other important information.
The nice thick pages let you can use a highlighter without worrying about bleed-through.
The contact page includes spots for your email address and cell phone number, which these days are a better way to reach someone than their home address or phone number (which there's also room for).
There's a full page to record the class schedule, including the room number and instructor's name.
The contact information and class schedule are on the front page, so this information can be viewed quickly without having to leaf through pages.
Along with the planners, I received an Academic Planner Accessories Pack consisting of a heavyweight plastic pagemarker and a colorful set of laminated monthly tabs to facilitate flipping to the correct page. I can see that these would be very useful, but the third part of the pack, a sheet of colorful stickers, also makes getting organized fun!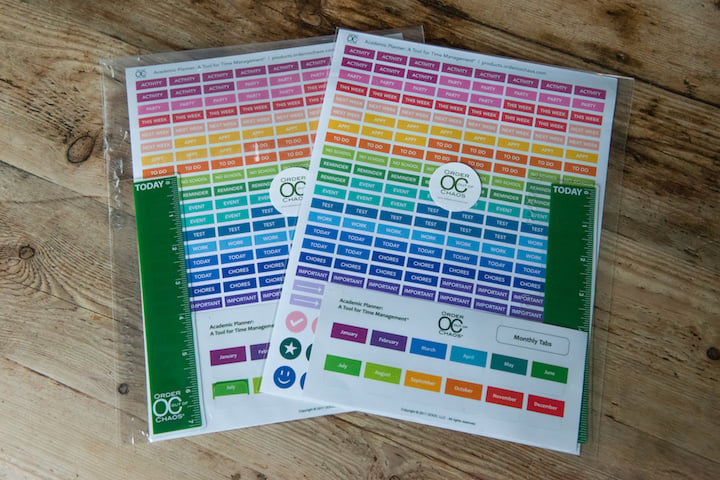 Overall
Here's how the planner and stickers might look in action:
The Academic Planner is a great product that's affordable even for students on a limited budget, and I highly recommend it for your clients and family members who are students.